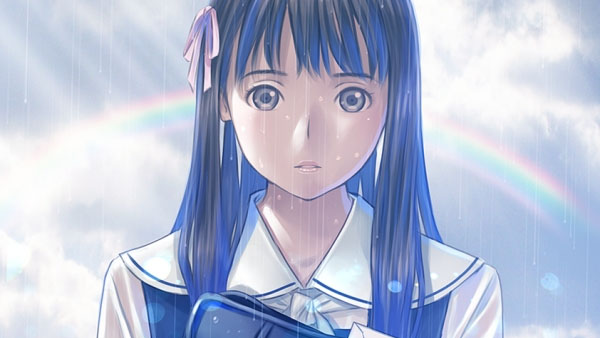 Today I'm writing about a rather unique game in the Western market. Root Letter is a mystery visual novel from Kadokawa, the first in a new series of mystery games. Visual novels outside of the adult space have been basically non-existent in the Western market until recently. Low-cost digital distribution has allowed smaller localizers to publish games on the PC. What makes Root Letter so unique is that it's from a large developer (Kadokawa) and was published on the PS4 and the PS Vita with actual physical releases. Sony has been pushing to lower the cost for releasing on their platforms and it looks like it has worked.
Root Letter is a fun game. Both Eva and I enjoyed it very much, we pushed through and finished it in 4 evenings. Expect to play about 10-15 hours depending how complete you want to be. It feels like the right length for the story. The game is located in the real city of Matsue, and all of the locations are real places. Matsue seems like a nice place, and the game at times feels like it's advertising the city. In fact we are going to try and visit Matsue in the new year thanks to the game. (Surely there has been an uptick in domestic tourists to Matsue as well) The mechanics are pretty standard visual novel fare, with a simpler more linear branching system than some similar titles. This may not be appealing to some gamers, but the narrative is enjoyable as are the visuals and music. I won't go into story details, as a mystery game pretty much anything is a spoiler. I also appreciated that the cast were in their mid 30s, instead of a high school aged cast. Somewhat more relatable for us than a lot of similar narratives.
Not really a detraction, but there are a startling number of typos in a physically released game (with a 1.01 patch in its first week). Two of the typos slightly impacted the game, but otherwise they were just kind of funny to see. Odd that a QA at Sony didn't catch these, even if the publisher missed them. They're extremely obvious in a single play-through.
If you like visual novels, pick up Root Letter. Support Kadokawa's new series of games, and especially their localization to the west!